www.DAYTANK.com
713.466.8679
Fax 713.466.8686
Toll Free 800.729.8807
42146 HWY 290 Business, Waller, TX 77484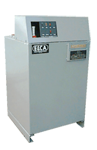 UL-142 Secondary Containment Automatic Day Tanks
Secondary Containment Automatic Day Tanks are designed to automatically maintain a full day's supply of fuel for the generator set.
The basic Secondary Containment Automatic Day Tank comes furnished with a pump, motor, "press to test" switch, and a "pump running" light. This system allows the tank to automatically pump fuel, from the main storage tank, into the Day Tank. Originally the tank was sized to provide a 24 hour source of fuel for the generator set, however, through the years, local codes and specifying engineers have modified the original definition. Today an Secondary Containment Automatic Day Tank is any tank that maintains a supply of fuel through the use of a locally mounted pump, motor and internal float switches.
Engine & Compressor Accessories has developed over the years a simple yet effective pump control circuit. Our flexible system allows us to customize the control circuitry to your specifications, while keeping the cost in line with other non-flexible printed circuit board systems. Our system consists of hard wired, socketed relays in conjunction with internal float switches and lights mounted on a panel to display and control many different functions. To see a full line of our options available, request a catalog or view a list of options on-line .

STANDARD FEATURES:
Heavy gauge steel lap joint construction
Heavy duty steel cover w/window
6 1/2" square removable inspection plate
1 1/2" NPT fuel level gauge
Heavy duty float switch
"Press to test" switch
"Pump-running" indicator light
Interior tank - epoxy coated
Exterior - E&CA gray enamel
1 1/4" NPT normal vent connections
Emergency vent connections - size specified by UL-142
4 - Top mounted 1" NPT connections; fuel outlet, fuel return, alternate fuel return, and overflow.
Heavy duty 1/3 HP, 115 VAC, 1 P, 60 Hz. motor with 2 GPM bronze high lift gear pump with stainless steel shafts
3/8" NPT tank drain connection
All plumbing preconnected
Hard wired control wiring with socketed, replaceable relays
| | | |
| --- | --- | --- |
| MODEL | GALLON / LITRE | W x D x H (inches) |
| SCDT25ULD | 25/95 | 24 x 20 x 33 |
| SCDT50ULD | 50/189 | 24 x 24 x 43 |
| SCDT60ULD | 60/228 | 24 x 24 x 49 |
| SCDT75ULD | 75/284 | 24 x 24 x 59.5 |
| SCDT100ULD | 100/379 | 24 x 31 x 59.5 |
| SCDT150ULD | 150/570 | 24 x 42 x 59.5 |
| SCDT200ULD | 200/760 | 24 x 56 x 59.5 |
| SCDT275ULD | 275/1041 | 30 x 60 x 59.5 |
| SCDT300ULD | 300/1137 | 30 x 64 x 59.5 |
| SCDT325ULD | 325/1235 | 30 x 69 x 59.5 |
| SCDT350ULD | 350/1330 | 30 x 74 x 59.5 |
| SCDT400ULD | 400/1520 | 36 x 70 x 59.5 |
| SCDT450ULD | 450/1710 | 36 x 78 x 59.5 |
| SCDT500ULD | 500/1900 | 42 x 74 x 59.5 |
| SCDT550ULD | 550/2090 | 48 x 72 x 59.5 |
| SCDT600ULD | 600/2280 | 48 x 78 x 59.5 |
| SCDT660ULD | 660/2508 | 48 x 86 x 59.5 |
| SCDT700ULD | 700/2660 | 60 x 74 x 59.5 |
| SCDT800ULD | 800/3040 | 60 x 84 x 59.5 |
| SCDT900ULD | 900/3420 | 60 x 92 x 59.5 |
| SCDT1000ULD | 1000/3800 | 60 x 108 x 59.5 |